In Australia about 20 per cent of carbon emissions stem from transport, including passenger transport, and these emissions are of course growing with increased demand for freight services.
The demand for freight is at an all-time high, with further growth to 35 per cent on 2018 volumes anticipated.
It goes without saying that with this increased demand for freight services, means in increase in CO2 emissions.
According to the Australian Trucking Association (ATA), from the 1970s to the late 2000s, the trucking industry made productivity gains of more than 600 per cent with B-double heavy vehicles being widely used.
ATA Transport and Infrastructure adviser Sam Marks says those gains have had a major impact on reducing emissions.
"Without the decades of productivity improvement, such as the B-double, an additional 150,000 articulated trucks would have been needed in addition to the 70,000 that were registered for use in 2007," ATA Transport and Infrastructure adviser Sam Marks told The Australian.
"A B-double reduces the emissions impact by about 18 per cent, while a B-triple can reduce it by 31 per cent. You can move more freight per truck, there are less truck trips to get the job done," added Mr Marks.
The gains have now stalled, and companies are looking to find the next wave of improvements to keep lowering fuel emissions.
"Alcoa wheels support sustainable transportation by helping trucks and trailers to be greener," says Ross Simmons, Managing Director of Howmet Wheel Systems Australia (distributor of Alcoa Wheels). "Helping operators cut down on fuel use and carbon emissions is one of our biggest priorities, and we invest heavily in leading in the latest innovations to engineer lighter and lighter wheels."
Because Carbon emissions from transport contribute about 27 per cent of the global CO2 output, transport and logistics companies are turning more and more to electrification to meet their sustainability responsibilities driven by freight demands.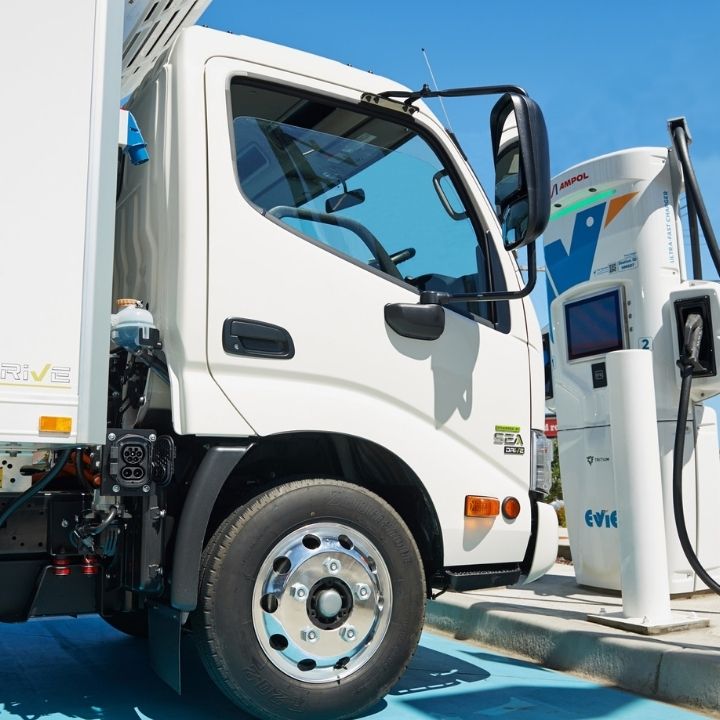 ELECTRIC AND HYDROGEN-CELL POWERED VEHICLES ARE IN
Electric vehicles are playing a major role in the Australian Government's plan to achieve zero emissions by 2050, with hydrogen-cell powered vehicles following.
According to Tony Fairweather, founder and CEO at SEA Electric Australia commercial vehicles powered by their 100 per cent electric SEA-Drive™ technology reduced Australian CO2 emissions by about 4000 tonnes in the decade to 2021.
"Once fleets start trialing electric commercial delivery vehicles, they – and their drivers – never want to return to an ICE (internal combustion engine) vehicle," Tony told The Australian.
"The linear acceleration and deceleration, zero noise and zero diesel fumes are some of many reasons drivers love an electric option."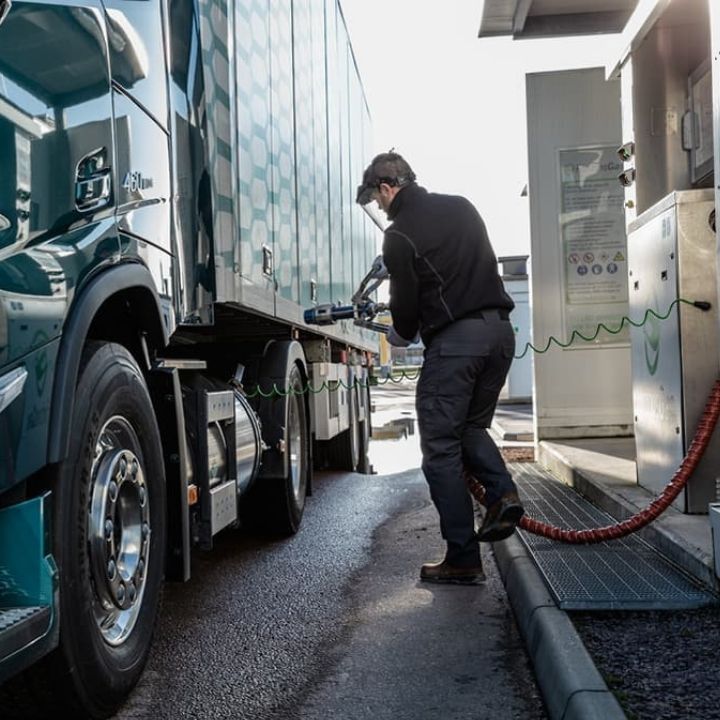 In late 2020 Volvo Trucks announced its intention for all Volvo Trucks to be fossil fuel free by 2040.
Each Volvo FL truck has been estimated to save about 34,000 tonnes of CO2 per 50,000km, taking into account vehicle manufacturing, use and end of life.
Volvo Group Australia's vice president Emerging Technologies and Business Development Paul Illmer says the process to transition to electric vehicles is achievable for heavy vehicle fleets. Their trucks can travel up to about 200km.
Volvo vehicles come standard on Alcoa wheels.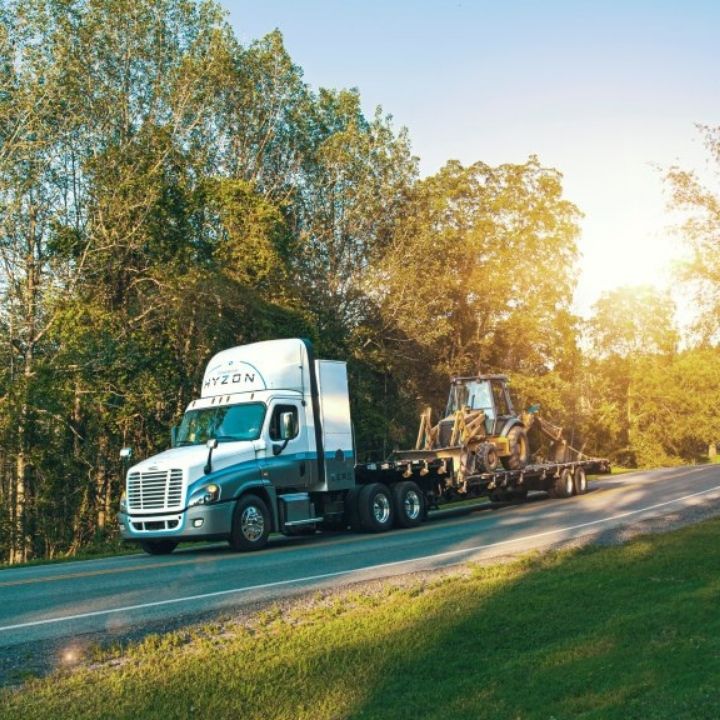 Hydrogen-cell powered vehicles are set to play a role in the zero emissions drive, with a vehicle introduced by Hyzon Motors touted as Australia's first hydrogen-cell heavy truck.
Volvo and Daimler are also pursuing plans to cut the costs of hydrogen fuel cells to make the zero-emissions technology commercially viable.
FUNDING FOR FLEETS
The Australian Renewable Energy Agency (ARENA) has made $127.9 million available to:
light vehicle fleet operators to integrate battery electric vehicles into their fleet, and

heavy fleet operators to integrate battery electric and hydrogen fuel cell vehicles into their fleet.
"Assisting fleet users to move to zero emissions vehicles means getting more zero emission cars and trucks on the road sooner, driving the road transport sector toward a net zero future," said ARENA chief executive officer Darren Miller.
You can find out if you are eligible and to learn more about the Future Fuels initiative.
THE 3 WAYS ALCOA WHEELS IS CONTRIBUTING TO HELPING FLEETS ATTAIN THEIR SUSTAINABILITY GOALS
Most of the prime movers in the market already come standard with Alcoa wheels, because they are known for their premium features and benefits, such as their light weight and durability, along with their lowered maintenance and fuel efficiency attributes.
It's all very well having an electric prime mover that's kicking zero emissions goals, but if the trailing equipment is weighty it will chew through battery power and reduce the kilometres you can get out of your battery.
Australia's leading fleets and OEMs choose Alcoa wheels for their trailing equipment because:
#1 ALCOA WHEELS ARE THE LIGHTEST AND STRONGEST FORGED ALUMINIUM WHEELS IN THE HEAVY-DUTY TRUCKING INDUSTRY
The 22.5″ x 8.25″ Alcoa Ultra ONE® wheel weighs just 18kg.
The Patented MagnaForce® alloy, which is only available on Alcoa wheels, was introduced to the market in 2013 and replaced the 6061 alloy which had been in use since the forged aluminium wheel was produced by Alcoa Wheels 45 prior.
MagnaForce® alloy is on average 17 percent stronger than the industry standard 6061 alloy when used in similar applications.
The increase in alloy strength allows for a reduction in the overall weight of the wheel, without compromising its strength and durability.
The Alcoa Ultra ONE® wheel can carry the same load of 3,360kg as the previous 20.36kg 22.5″ x 8.25″ Ultra ONE® Wheel, while being almost 2.5kg lighter!
Lighter wheels mean that fleets and owner-operators benefit from offsetting the extra weight of the battery, as well as getting the most out of the distance an electric truck can travel on that battery's power.
"Reducing the number of trucks needed to haul the same quantities of freight has a substantial impact on sustainability," says Ross Simmons, Managing Director of Howmet Wheel Systems, distributor of Alcoa Wheels in Australia.
Trucks that have to travel less haulage runs because they can carry more means less trucks on the road, which in turn means cleaner air and healthier citizens (who are customers, employees, family members).
#2 ALCOA WHEELS ARE 100% RECYCLABLE
Aluminium can be recycled forever.
Recycling an Alcoa® Wheel at the end of its useful life will generate a piece of metal with exactly the same properties as the metal used to manufacture the recycled wheel. Once the new product reaches the end of its useful life, the same process can be performed again and again.
In the recycling process, almost all of the quantity of the material is preserved – and this process can be repeated almost infinitely.
Aluminium recycling also saves huge economic and environmental costs compared with the creation of virgin metal. Each ton of aluminium recycled saves one square meter of land use and 24 barrels of crude oil equivalent of energy.
It saves more than 15 tons of fresh or sea water use, eliminates more than 9 tons of CO2 equivalent of greenhouse gas emissions, and avoids 2.5 tons of solid waste and hundreds of kilograms of other air and water-borne emissions and effluents.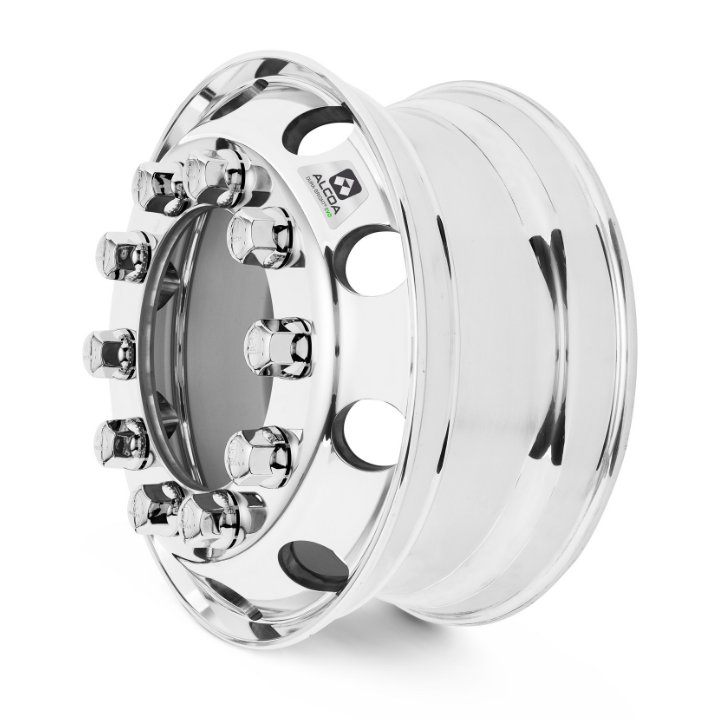 #3 ALCOA DURA-BRIGHT® WHEELS CREATE LESS WATER WASTE AND REQUIRE LESS HARSH CHEMICALS TO BE PUT BACK INTO THE ENVIRONMENT
Available across the entire Alcoa Wheels range, Alcoa Dura-Bright® wheels are infused with a proprietary surface treatment that penetrates the surface of the aluminium to form one composite that becomes an integral part of the wheel so cracking, corrosion and filiform can't get underneath as is seen with acrylic and other coatings.
With the ability to be cleaned in a Ph environment 2-12, they stay shiny with regular truck cleaning products and even just soap and water – even after hundreds of washes and thousands of kilometres.
Less harsh chemicals and less water needed is much kinder to the environment (Dura-Bright wheels have been known to cut wash time down from 20 mins to just 2 mins per wheel!).
"Dura-Bright® wheels clean with a simple soap and water wash, and not only do they take less time to clean than standard brushed aluminium wheels, they don't need to be polished, so there are less chemicals going into the environment and less water used," says Michael Nichols, National Sales Manager for Alcoa Wheels.
Alcoa Dura-Bright® is available across most of the Alcoa wheel range, which means the premium benefits they are known for are not compromised:
their light weight (increased payload, better fuel efficiency),

their unmatched strength (proprietary MagnaForce® alloy is exclusive to Alcoa wheels and is 17% stronger than any other alloy in the industry),

their improved heat dissipation results in extended tyre and brake life.

MORE REASONS TO CHOOSE ALCOA WHEELS:
LISTEN TO THE ALCOA WHEELS EXPERTS SHARE THEIR ALMOST 100 YEARS OF WHEEL EXPERIENCE ON ALL THINGS AXLE-ENDS
In these two episodes of the Behind the Wheels Podcast, the Alcoa Wheels experts on aluminium vs. steel wheels, chat with Michelin about reducing energy consumption and lowering emissions – not only to benefit the environment, but fleets as well.

Make Sure It's An Alcoa® Wheel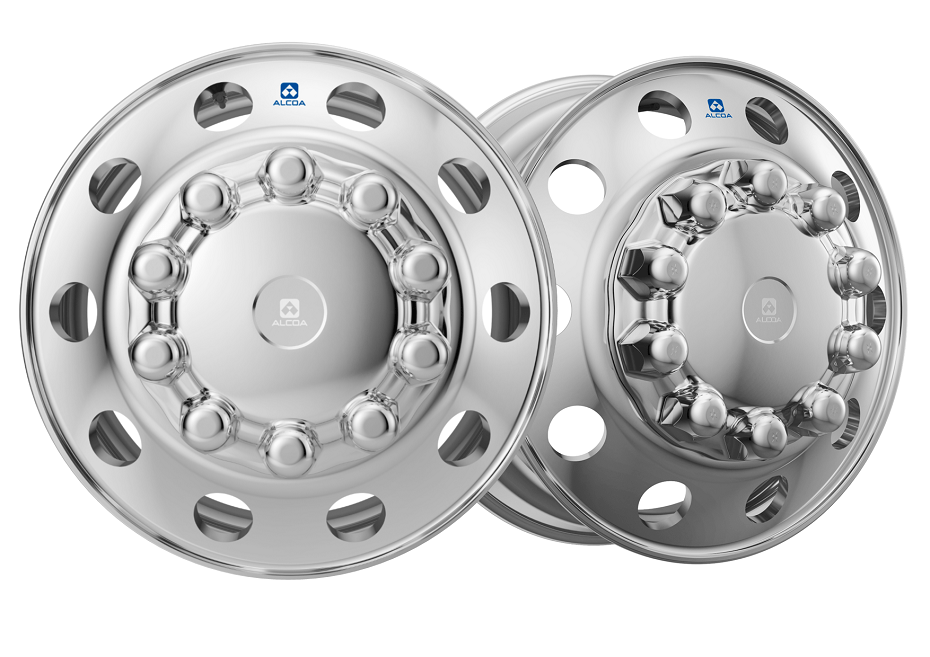 To spec your wheels, ring

1800 955 191 to talk with our wheel experts, or fill out a contact form and we will reach out to you to answer your questions and discuss your specifications.